Beijing, May 13: The Temple of Heaven
Our group split up for the afternoon -- while the ladies went to the pearl market, the men visited the Tian Tan (Temple of Heaven), dating from the Ming Dynasty (1368-1644), where the Emperors made sacrifices and prayed to heaven and ancestors. The Long Corridor is now popular as a park, with people playing music and games of cards and chess.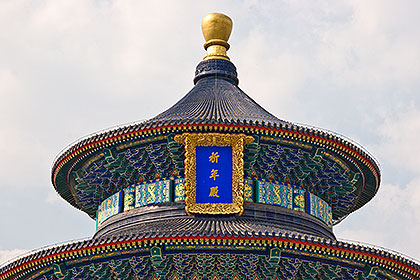 Panorama of the Temple of Heaven. Use the slider to pan across the courtyard.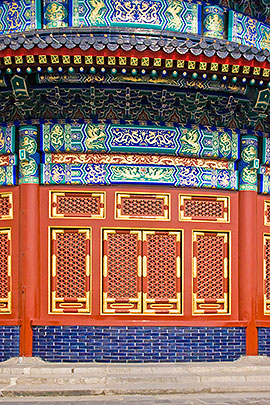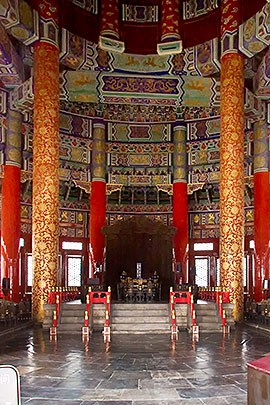 The magnificently detailed Qinian Dian sits on a three-tier marble platform, and is capped by a golden finial. Inside are 24 decorated pillars, four Dragon Well columns, offerings, and marble tablets honoring ancestors.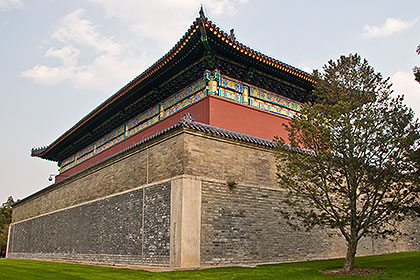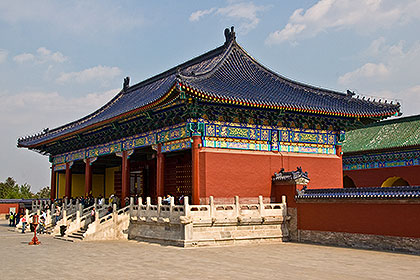 Above left, a sample of the incredible painted detail, seen everywhere. Top right, a marble slab over which the Emperor's sedan chair would be carried. Above, two of the other buildings in the temple complex. Right, animal figures guarding the roof of one of them.

Below, the Round Altar, or Heavenly Center Stone, is at the center of a series of concentric rings of stone in multiples of nine, where the Emperor's sacrifice would be made.