Beijing, May 12: Variety Show at the Laoshe Teahouse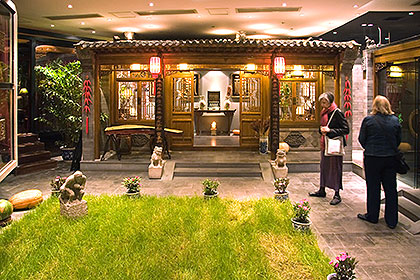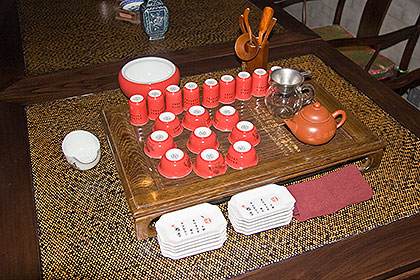 After dinner we went to the Laoshe Teahouse. As we entered, we were shown through a number of sumptuously decorated rooms, with elegant tea services. We were then seated in the teahouse's theater, to see a lively and very entertaining variety show, which included a combination of Beijing opera, comedy, and acrobatic acts. During the show we were served tea in dramatic style (right).
__________________________________________________________________
Variety Show at the Laoshe Teahouse
Some scenes from the variety show's many acts are shown here, including music, Beijing opera, stand-up comedy, and dance. At bottom left, an acrobat on a unicycle repeatedly tossed brass bowls from her foot so that they landed in a nest on top of her head. At bottom right, a costumed performer presented a lot of different masks while dancing. Each change of mask was seemingly instantaneous, with just a quick jerk of the performer's head.