Xi'an, May 16: Shaanxi History Museum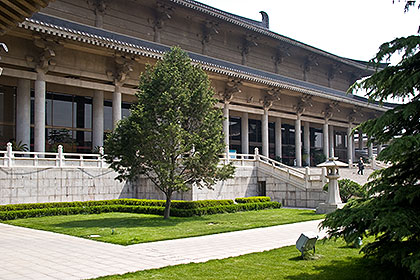 With its historical importance sustained for over 4000 years, Shaanxi Province is where many of China's most valuable historic relics have been discovered and are being preserved. In 1991 the Shaanxi History Museum was opened, with 60,000 square meters of floor space in galleries covering pre-history through the Qing Dynasty. I photographed only a few of the hundreds of thousands of relics housed in the museum; when I return to Xi'an I will certainly spend more time here.
This bronze chariot (shown in two views) is one of two that were found near the still-unopened tomb of China's first Emperor, Qin Shi Huang, outside of Xi'an. Both are half of life size, and both are also shown at the Terra-cotta Warriors Museum (see May 17 pages); I believe that this one is a reproduction and the others are originals, but I cannot be sure. It is believed that Qin Shi Huang intended to use this chariot to review his army (of terra-cotta warriors) in his afterlife; the other chariot would have provided security for this one. This chariot has two compartments, with a partition between them; the front compartment was for the charioteer and the back one was for the Emperor. It was ornamented with more than 1,500 pieces of silver and gold, and featured working doors and windows with ventilation holes.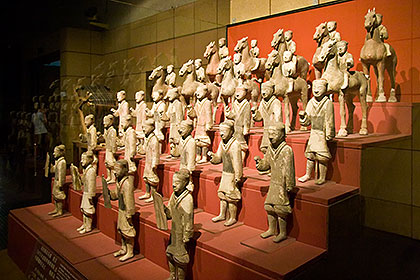 No, this is not the most famous collection of Terra-cotta Warriors (for those, see the May 17 pages). These elegant painted pottery warriors are from the Western Han Dynasty (206 BC - 9 AD). They were unearthed at Yangjiawan Village, in Shaanxi Province, in one of the burial pits of Liu Bang (Emperor Gaozu). The paint colors have faded from oxidation since removal from the earth.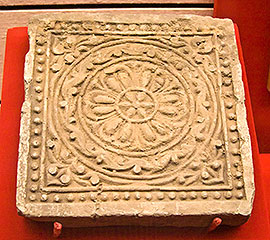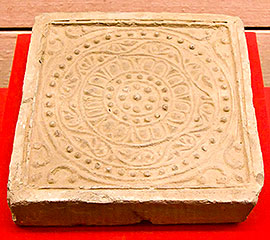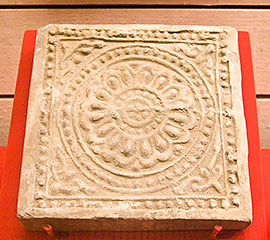 Three molds for making patterned tiles.
Animal biting foot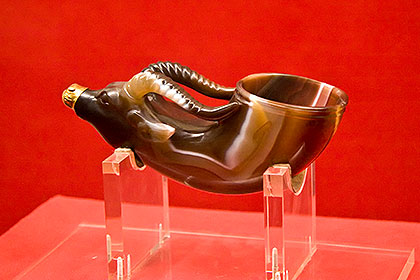 Tang Dynasty (608-907) agate cup in shape of an ox head.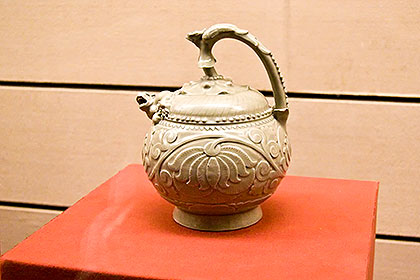 Song Dynasty (960-1126) celadon "reverse pot".
Tang Dynasty sancai (3-color) glazed pottery horse.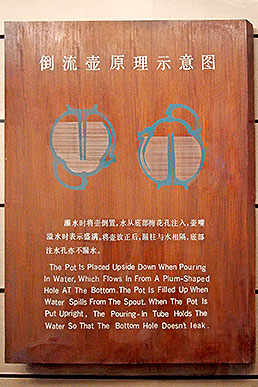 The internal secret of the "reverse pot" is revealed.
Leaving the Museum.